Auditions – Chicago: The Musical
Presented by:
Regina Summer Stage
Category:
Arts and Entertainment
Price:
$-0.5
Date:
April 22, 2018 – April 25, 2018
Time:
1:00 PM – 10:00 PM
Address:
1077 Angus Street, Regina, Saskatchewan S4T 1Y2
Website:
http://www.reginasummerstage/auditions.htm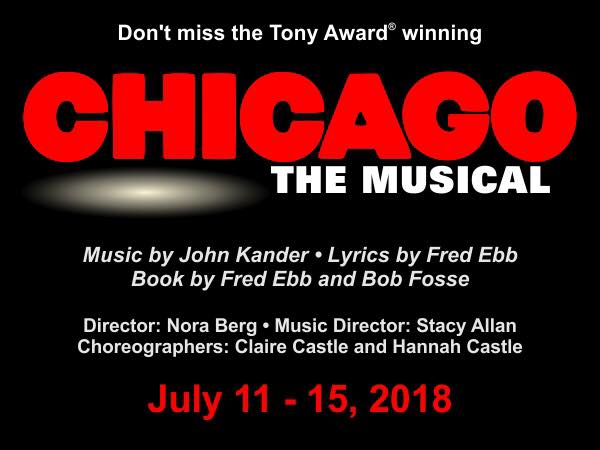 Regina Summer Stage is holding auditions for Chicago: The Musical at the Regina Performing Arts Centre on April 22, 24 and 25, 2018. Performances are July 11 to 15, 2018. Audition details can be found at http://www.reginasummerstage/auditions.htm.
Set is prohibition-era Chicago, this dazzling, satirical musical tells the story of two rival vaudevillians who vie for the spotlight on and off stage. Nightclub star Velma Kelly, who murdered her husband and sister after finding them in bed together, and ambitious chorus girl Roxie Hart, who killed her lover and tried to convince her hapless husband to take the blame, are thrown together in Cook County Jail. When superstar lawyer Billy Flynn takes on both women's defenses, tensions mount and a media frenzy ensues. Velma and Roxie find themselves competing for the attention of the press but soon discover that fame is fickle and fleeting.
Get Directions
More events at Regina Performing Arts Centre
No Entries Found
Other Events