Evraz Place
Place Type:
Other Place
Address:
1700 Elphinstone Street, Regina, Saskatchewan S4P 2Z6
Phone:
(306) 781-9200
Fax:
(306) 565-3443
Website:
http://www.evrazplace.com/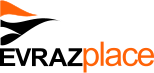 Evraz Place is operated by the Regina Exhibition Association Limited, a 102-acre (0.41 km2) event site in the heart of Regina, Saskatchewan, Canada. It holds entertainment, agribusiness, sporting, recreational and cultural activities. Evraz Place has over half a million square feet of indoor space and close to one million square feet of outdoor space. It is a registered not-for-profit organisation and receives no subsidy.
Source: https://en.wikipedia.org/wiki/Regina_Exhibition_Park
Social Media Links
Get Directions
1700 Elphinstone Street, Regina, Saskatchewan S4P 2Z6
Upcoming Events at Evraz Place
No Entries Found