Regina Performing Arts Centre's Gala
Presented by:
Theatre Regina Inc.
Category:
Arts and Entertainment
Price:
$30
Date:
November 30, 2019 – November 30, 2019
Time:
7:30 PM – 10:30 PM
Address:
1077 Angus Street, Regina, Saskatchewan S4T 1Y2
Website:
http://www.reginapac.com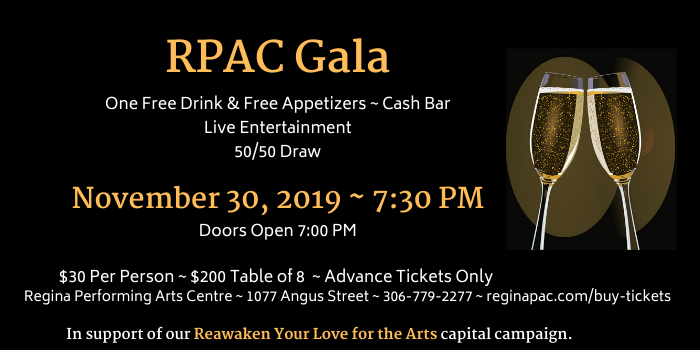 The Regina Performing Arts Centre is hosting a Gala on November 30, 2019, at 7:30 p.m. to support its "Reawaken Your Love for the Arts" capital campaign. The Gala takes place at the Centre (1077 Angus Street). Tickets are $30 per person or $200 for a table of 8 and include free appetizers and one free drink (alcohol, pop, coffee, tea or water). There is a cash bar. Entertainment is provided by some of the Centre's best known member groups: Dance Plus/Glam Dance, Poltava Ensemble, Regina Summer Stage, and Zabutnyy Dance Company.
Our goal is to raise $200,000 over a two-year period to revitalize the facility. Immediate priorities include: auditorium chairs replacement ($50,000), exterior lighting upgrades ($25,000), and lobby washroom upgrades ($30,000).
To purchase tickets, drop by the RPAC Box Office (1077 Angus Street), call 306-779-2277, or visit http://www.reginapac.com/buy-tickets.
Get Directions
More events at Regina Performing Arts Centre
No Entries Found
Other Events
5k Foam Fest (365 sports)
Date:
July 11, 2020
Category:
Sports and Fitness
Address:
Inland Dr Regina, Saskatchewan, Regina, Saskatchewan S0G 3Z0
Description:
The 5K Foam Fest is a one of kind Obstacle Course based Fun run. With a variety of obstacles and a ton of foam the run is an exciting
…Read More