smARTies
Presented by:
Royal Saskatchewan Museum
Category:
Arts and Entertainment
Price:
$17
Date:
November 8, 2016 – November 8, 2016
Time:
5:30 PM – 7:30 PM
Address:
2445 Albert Street, Regina, Saskatchewan S4P 4W7
Website:
https://www.royalsaskmuseum.ca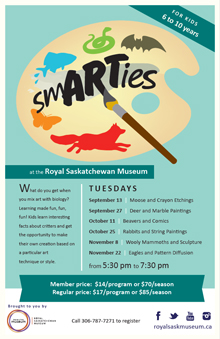 What do you get when you mix art with biology? Learning made fun, fun, fun! Kids learn interesting facts about critters and get the opportunity to make their own creation based on a particular art technique or style. For kids 6 to 10 years. Call 306-787-7271 to register.
Source: https://www.royalsaskmuseum.ca/programs/event-calendar/item?id=383
Social Media Links
Get Directions
More events at Royal Saskatchewan Museum
No Entries Found
Other Events